---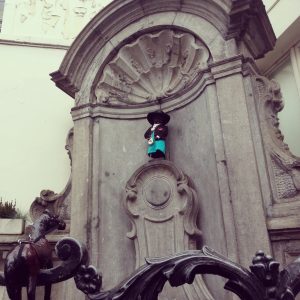 So I've found myself in Brussels for a day and a half. Walking in the streets looking for some decent waffle. As I was walking in the center of the old town I felt the weight of history, thinking to myself "There were so many things before I came into this world". Continuing with my stroll I came across the Manneken Pis statue. Everybody around wanted to take a picture with it.
I feel uncomfortable saying that but this statue is too small and not satisfying, yet people still love it.
"I have to do something significant in my life before I leave this planet. How hard can it be if this Hiëronymus Duquesnoy guy did it by designing this tiny sculpture?"
I was a bit disappointed.. I kept going with my walk, not before I shoved a Belgian waffle with strawberries and nutella chocolate.
I've been to some nice parks, cafe places and a second hand market.
I bought some useless things I will never use.
Tomorrow I'm already going home but I feel satisfied. I conquered Brussels with my two not short and not long legs.
---