2020
Pigulim in Tel-Aviv Dance Festival photo by: Roee Shalti

Pigulim was created in the first initial residency program of Suzanne Dellal Center. The process traveled to Lucerne and was developed with the Tanz Luzerner Theater and premiered there as well.
Pigulim reveals stories within stories that rely on connections between the individuals in the show.
The main characters are suffering from unbearable loneliness and battling their way between life and death.
Each character is traveling through their materialistic being to their consciousness and holds a significant weight in each other's worlds.
The stories show the essential humanity of the characters and relate to the issues of life, existence, and the quest for happiness.
In Pigulim, familiar objects symbolize misperceptions and reflect the misery of loneliness.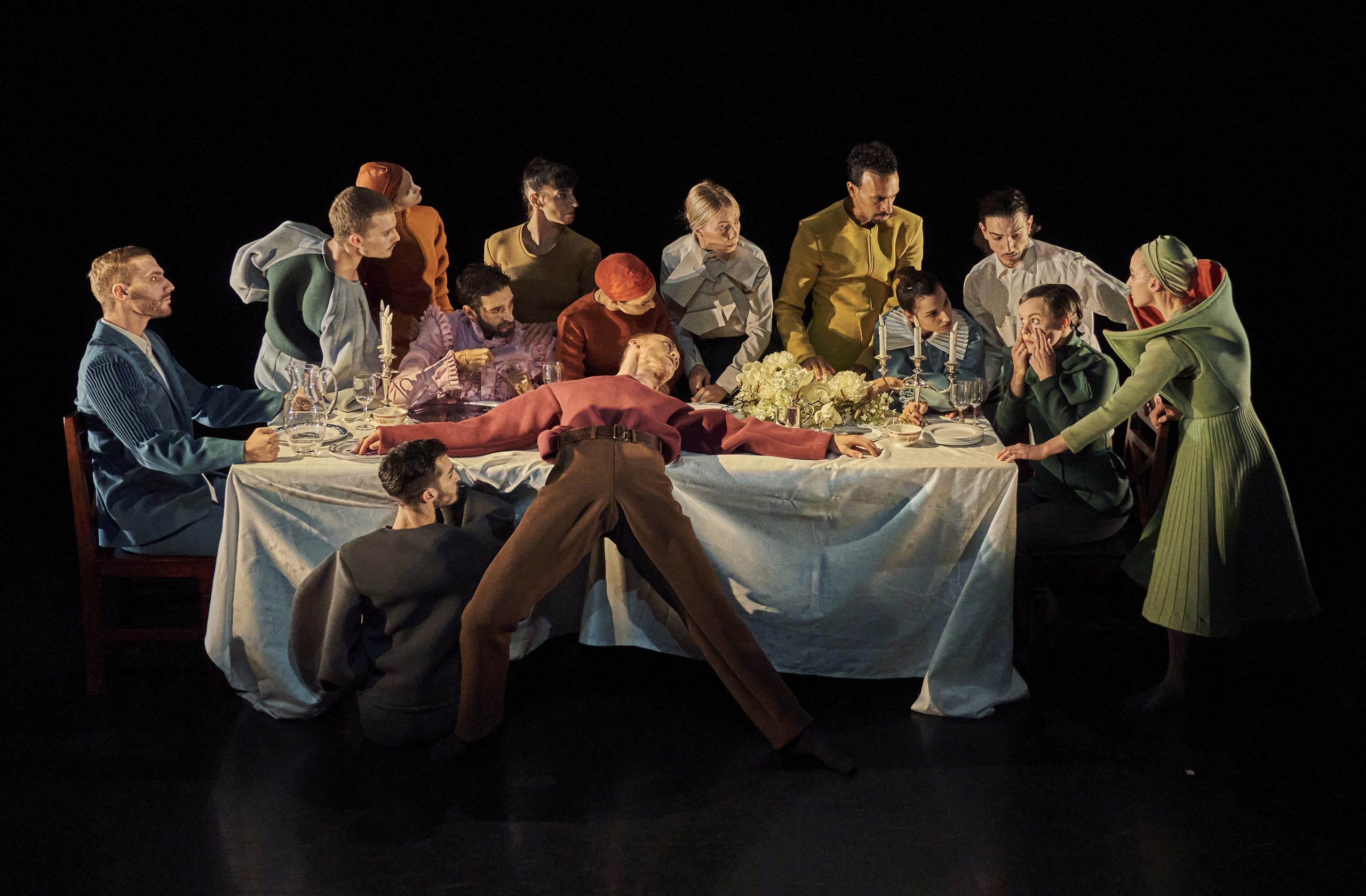 Pigulim in Lucerne Theater photo by: Ingo Hoehn

Pigulim premiered with an Online version at the Tel Aviv Dance Festival.
And had a world premiere in Lucerne with the Tanz Luzerner Theater TLT as part of the evening 'I am who I am who I am'. This project was a Co-production between Migros Culture Percentage Dance Festival Steps and Luzerner Theater.
From the press:
Credits:
Choreography: Ella Rothschild
Performance: Ariel Freedman, Adi Zlatin, Keren Luria Pardes
'Maslool – Professional Dance Program' dancers: Noga Eliezer, Gilly Geva, Noa Gronich, Romy Duvdevani, Shani Zargari, Noam Hayoun, Noa Toledano, Omer Tichauer, Adam Ishay Eldar, Roni Morhalachmi, Lal'el Pillora, Yahav Sabag, Tal Cohen
Lighting Design: Ofer Laufer
Table and Art: Ofer Laufer
Costumes: Inbal Ben Zaken
Music: Gershon Waiserfirer
Dramaturgy: Tal Yahas
Photos: Efrat Mazor
Trailers: Roee Shalti
The 'Maslool – Professional Dance Program'
Directors of the 'Maslool' – Naomi Perlov, Offir Dagan

Lucerne Theater:

Artistic director of "Dance Lucerne Theater": Kathleen McNurney
Dramaturgy and production management: Sarah Brusis
Ballet master: Eva Zmeková
Performers: Olivia Blanch ,Dario Dinuzzi, Lisa Gareis, Mathilde Gilhet, Luigi Imperato, Phoebe Jewitt, Terra Kell, Carlos Kerr Jr., Valeria Marangelli, Igli Mezini, Mathew Prichard, Flavio Quisisana, Ilaria Rabagliati, Gabriele Rolle ,Giuliana Sollami, Andrea Thompson
Pigulim was developed in part during a residency at the Baryshnikov Arts Center, New York, NY
Pigulim was supported by 2019 Suzanne Dellal Center Artist Residency Program.
Supported by Asylum Arts