2020
Theater creation collaboration with the director Kenichi Tani, produced by Kanagawa Arts Theatre, Yokohama, Japan.
Photo by: Maiko Miyagawa

Kanagawa Arts Theatre (KAAT) created a challenging and spectacular production with a playwright and director, Kenichi Tani, on its 10th anniversary year.
Kenichi Tani, who won both Kishida Prize for Drama and Tsuruya Nanboku Prize for Drama on his FUKUSHIMA TRILOGY, throwing insightful questions on Fukushima and nuclear power plants to our society, explores and depicts human history on stage.
Why we, humankind, were able to stand at the top of the earth by eradicating other human species and creatures?
This production explored a unique theory, which is that Homo sapiens is the only species who have the ability to "believe in fiction."
With words, physical expression, and music, and as a whole company, they realized breath-taking and spectacular production of human history.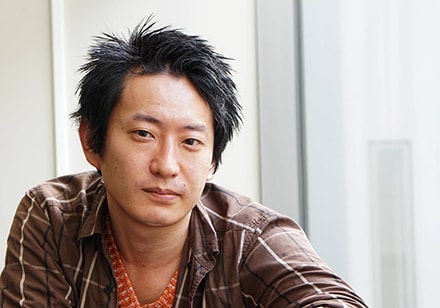 Kenichi Tani studied at Meiji University (Drama MA) and University of Kent at Canterbury,Theatre and Drama Study. He founded his own theatre company "DULL-COLORED POP," where he himself writes and direct. His works (both as writer and director) and his style: pop, rock but beautiful as literature is highly received. In 2019, he presented FUKUSHIMA TRILOGY which depicted stories of three families in Fukushima over three generations focusing the history of nuclear powerplant. This challenging and exciting production drew 10,000 audience. Recently, as writer or assistant director, he has been collaborating with many creatives from abroad including Silviu Purcarete (RICHARD III), Philippe Decouflé (MY NAME IS SHINGO), Sidi Larbi Cherkaoui (PLUTO), Andrew Goldberg (MACBETH), and David Leveaux (ETERNAL CHIKAMATSU).
Credits:
Script & Director: Kenichi Tani
Choreography: Ella Rothschild
Music: Ryohei Shima
Performars: Masahiro Higashide, Natsumi Kon, Kazuhiro Yamaji, Youji AkibaKei Asanum, Sho Ikushima, Takayuki Ueda, Maki Okubo, Kae Okumura, Akane Kuri, Moeko Koyama, Mitsuhiro Tanimoto, Naomi Naito, Mai Nakabayashi, Yuri Nagoya, Junki Narasaka, Akiyoshi Nita, Kan Fukuhara, Tetsuji Muraoka.
Stage design: Yukio Horio
Lighting design: Shigeo Saito
Sound: Hideyuki Kano
Projection design: Nobuhiro Matsuzawa Eika Shimbo
Costume design: Kyoko Dohmoto
Hair & Makedesign: Yurie Taniguchi
Assistant choreographer: Mayumu Minakawa
Assistant director: Chiho Watanabe
Production Manager: Kayoko Yamazoe
Stage Manager: Koutaro Yokosawa
Assistant choreographer: Sho Ikushima

Production: KAAT KANAGAWA ART THEATRE
Agency of Cultural Affairs
Support: Yokohama Arts festival Exective Committee, Israel Embassy Ikushima kikaku Empathy Cube Inc, Gorch Brothers, Ltd, Seinenza Toho Entertainment Pacific Voice Hanagumishibai Victor Music Arts Purissima Humanite Furari Misanga International ARCH